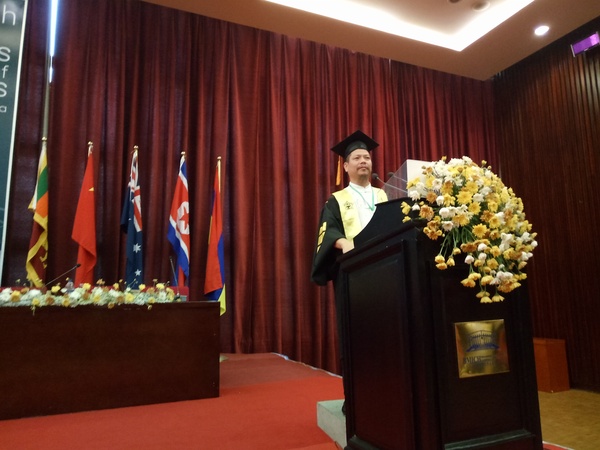 一阳复生癌自灭 火针治癌显奇效
YangRevitalization Brings about Self-destruction of Cancer;
Fire Needle Therapy Shows Miraculous Efficacy
——针灸、火针等外治法在肿瘤治疗中的临床运用
ClinicalApplication of External Therapies of
Acupuncture and Fire Needle in Tumor Treatment
(文 国医大师贺普仁教授弟子 陈春永)
Chen Chunyong, Discipleof TCM Master & Professor He Puren
恶性肿瘤在祖国医学的早期文献中早有过描述,《黄帝内经》中的 "肠覃"、"石瘕"、"积聚"都是指肿瘤。并记述了肿瘤的病因、症状和治疗。在《晋书.景帝纪》载有司马师"目有瘤疾,使医割之",说明在公元三世纪我国医学家已能割治肿瘤。这是世界是最早的文献记载。其后在《诸病源候论》等诸多医书中都有有关防治肿瘤、恶性肿瘤方药的记载。
There is an early record of malignant cancer in literatures oftraditional Chinese medicine."changtan" (female abdominal mass),"shijia" (stony uterine mass) and "jiju" (accumulation) in Yellow Emperor's Inner Canon all referto tumor.Meanwhile, there are records of tumorous etiology, symptom andtreatment in this classic.In The Book ofJin ·Emperor Jing Section, there is such record as "Sima Shi discovers tumor in thebodythrough visual inspection and asks the doctor to cut it off", whichindicates that Chinese medical scientist was able to treat tumor with cuttingearly in the 3rd century A.D.This is the earliest documentary record of tumortreatment.After that, there are records of tumor prevention and control andprescription of malignant cancer in many medical books such as General Treatise on the Cause and Symptomsof Diseases.
宋代《卫济宝书》书中论述了各种癌、痈、痼、瘭等外科疾病的不同治法,这是我国古代医籍中最早使用"癌"的病名。医家杨士瀛著《仁斋直指附遗方论》则最早对"癌"的特征作了简明叙述,指出癌是"上高下深、岩穴之状,颗颗累垂.......毒根深藏,穿孔透里......。"宋代陈自明在《妇人大全良方》中最早正式谈到"乳岩(癌)",元代朱丹溪的《丹溪心法》中也讲到了乳癌的病因和诊断。到了明代涉及癌症的外科医书逐渐增多,其中以陈实功的《外科正宗》论述乳癌最详。清代祖国医学不仅对各种癌症的认识进一步深化,而且治疗方法也更加丰富。如用清热解毒、活血去瘀、除痰散结等办法攻邪;根据阴阳气血的盛衰进行滋补以扶正等。
In the Weiji Treasured Bookof Song Dynasty, different treatments of cancer, carbuncle, chronic disease andpad/finger pyogenic infection were discussed, and "cancer" was for the firsttime used to refer to a disease in Chinese ancient medical books. Medicalscholar Yang Shiying wrote EffectiveRecipes from Renzhai House and made a concise and clear description offeatures of "cancer", saying"hidden extensively and deeply inthe body, similar to grotto, composed of accumulated particles, with toxin deeplyrooted."Chen Ziming of Song Dynasty was the first to formally talk about"ruyan" (breast cancer) in his CompleteCollection of Prescriptions for Women. Zhu Danxi of Yuan Dynasty discussedthe etiology and diagnose of breast cancer in Danxi's Experiential Therapy.Up to Ming dynasty, there had beenmore medical books talking about cancers, among which Orthodox Manual of External Medicine by Chen Shigong was the mostdetailed in the discussion of breast cancer.In Qing Dynasty, traditionalChinese medicine not only deepened its cognition of various cancers, but alsoenriched their therapies.For example, it expelled pathogenic factors throughclearing away heat and toxins, promoting blood circulation, removing bloodstasis, eliminating phlegm and removing stasis; it strengthened body resistancewith nutrition based on the vicissitude of Yin and Yang and of Qi and blood.
从以上资料足以证明我国早在三千年前对癌症有了较深的了解及研究,并且详细记载了各种癌症的中医治疗方法。
The information above is enough to prove that as early as threemillennia ago, Chinese medicine had carried out in-depth research andunderstanding of cancer, and had kept detailed records of its traditionalChinese treatment methods.
中医管各种癌症叫癥瘕,癌症的发生发展从无到有,经历了无邪、有邪气、形变、质变的过程。症瘕描述的就是疾病从无形的邪气发展到了有形的积聚,并即将质变成癌岩的阶段。
Traditional Chinese medicine refers to all kinds of cancers as"zhengjia" (abdominal mass).Cancer grows out of nothing and undergoesthe process of no pathogenic qi, presence pathogenic qi, deformation toqualitative change."Zhengjia" describes the stages from invisible pathogenic qito tangible accumulation and the trend of qualitative change into cancer.
导致癥瘕的发生多是:情志郁结、饮食不节或外感六淫之邪等导致致病因素,以致机体阴阳失调,脏腑功能障碍,经络阻塞,气血运行失常,气滞血瘀、痰凝邪毒等而发生此病。
Factors that may cause "zhengjia" are predominantly depression,improper diet or six-excess external contractions; These factors may causeimbalance of Yin and Yang, lung functional disorder, collateral block-up,abnormal qi and blood circulation, qi stagnation and blood stasis, phlegmstasis and pathogenic toxin, and results in "zhengjia".
《内经》云:"正气存内,邪不可干","邪之所凑,其气必虚"。
Yellow Emperor's Inner Canonsaid: "when vital qi exists in the body, the pathogenicfactors do not offend; when the pathogenic factors accumulate, it willdefinitely result in deficiency of qi."
《医宗必读》谓:"积之成也,正气不足,而后邪气踞之。"说明正气虚损是癌症发生的内在原因。
Required Readings forMedical Professionals said: "The formationof mass is because of vital qi deficiency and accumulation of pathogenic qiafter that", which indicated that vital qi deficiency or damage is theimmanent cause of cancer.
癌症病变的过程,实际上也是正气与邪气双方互相斗争的过程,邪胜正则病进,正胜邪则病退。因而治疗癌症,就是要扶助正气,祛除邪气,改变邪正双方的力量对比,使之有利于癌症向痊愈方面转化。所谓祛邪就是采取攻的方法,也就是抗癌,抑制和杀灭癌细胞,消除肿块。所谓扶正即就是采取补的方法,以保护机体,调动机体积极因素,提高机体抗癌能力。而邪气大致为气滞、血瘀、热毒、痰湿、癌毒等。
The development process of cancer is actually a fight betweenvital qi and pathogenic qi. The disease invades when the latter conquers theformer, and it retreats vice versa.Therefore, the treatment of cancer means to support vital qi and expelpathogenic qi, to change the balance of their power and enables it to transformand benefit healing of cancer.Eliminating the pathogenic factor is theoffensive method, which means to fight against cancer, restrain and kill cancercells and eliminate lump.Strengthening the body resistance is the tonic method,which aims to protect the body, mobilize positive factors of the body andimprove its anti-cancer capability.The pathogenic qi mainly includes qistagnation, blood stasis, heat toxin, phlegm damp and cancer toxin.
所以扶正祛邪,是癌症治疗的一条重要原则,癌症的治疗,始终贯穿着扶正与祛邪两个方面。
Combining strengthening the body resistance and eliminatingpathogenic qi is an important principle, which shall work throughout the wholeprocess of cancer treatment.
下面介绍本人在临床上通过针灸、艾灸、火针、放血等外治法在治疗恶性肿瘤方面积累的经验与大家分享,并请指正。
In the following parts, I will share my experience in cancertreatment with external clinical therapies such as acupuncture, moxibustion,fire needle and bloodletting and I welcome comments and suggestions from all ofyou.
本人治癌主要通过以下方法(简称十法)因论文字数要求有限,在本文中主要介绍针灸、艾灸、火针、放血等四法,其他六法如药物疗法、食物疗法,精神疗法,练功打坐,皈依,药符咒等,待有时间再详细论述。
My principle cancer therapies include ten methods. Due to the wordlimit of this paper, it mainly talks about four methods of acupuncture,moxibustion, fire needle and bloodletting; other six methods including drugtherapy, regimen, psychotherapy, Qigong practice, sit in meditation, convertingand medicine charm will be left for later discussion.
(一)针灸治癌原理
Ⅰ. Principle of acupuncture therapy
《针灸大成》一书有多个用针灸治愈肿瘤的医案,古代医家提出,针灸与药物治疗肿瘤各有其他功能与特色,清代张振鋆提出:"宜薄贴以功其外,针法以攻其内,艾灸以消散固结,佐其所不逮也。
Compendium of Acupunctureand Moxibustion has a rich collection of medical casesof treating tumor with acupuncture.Ancient medical scholars have proposed thatacupuncture and drug therapy have their each functions and features.ZhangZhenyun in Qing Dynasty proposed: "It's reasonable to cure externaldiseases with application, internal diseases with needle and supplement the twotherapies with moxibustion for eliminating the stubborn root."
针灸治疗恶性肿瘤,能起快速之神效,其机理在于针灸疗法具有调节机能作用。《灵枢*九针十二原》中讲:"以微针通其经脉,调其气血,营其逆顺出人之会"。通过针灸调节使机体生长正常细胞的功能得以恢复,而使机体抑制异常细胞的产生,这样以形成的异常细胞逐渐衰老死亡,又不得不到新的异常细胞的补充,肿瘤病灶因而停止生长,以至逐渐缩小,直至消失。这就是针灸治疗肿瘤的机理。
The reason for fast work of acupuncture therapy is that it is ableto regulate body functions.Lingjiu inTwelve Yuan Points and Nine Needles (YellowEmperor's Inner Canon) said: "microneedle can dredge the meridians andmodulate qi and blood, enabling their circulation and smoothening theirmovements and curing the disease as a result."Acupuncture regulates thebody, enables normal cellular function and prevents the generation of abnormalcells; then, the abnormal cells will gradually age and die and cannot besupplemented by new abnormal cells; as a result, the tumor stops growing, shrinksand even disappears. This is the principle for treating tumor with acupuncturetherapy.
如足三里亦为治疗肿瘤的重要穴位之一。现代医学研究证明,针刺足三里可以提高人体免疫功能,增强免疫系统对癌细胞的杀灭力。《琼瑶神书·琼瑶真人七星针病诀》:"痃癖胃寒三里留"。痃癖即肿瘤。琼瑶真人认为"痃癖"属胃虚寒,正气不足所致,针补足三里可以扶正祛邪,达到治疗目的。
For example, Zusanli is one of the significant acupoints fortreating tumor.Modern medicine research has proved that acupuncturing thisacupoint improves immunologic function of human body and enhances immunesystem's power in killing cancer cells.QiongyaoMiraculous Book · Seven-star Needle Formulassaid: "Treatment inZusanli is helpful for Xuanpi caused by stomach coldness.""Xuanpi" refersto tumor.The great master Qiongyao thinks that "Xuanpi" is caused bystomach vacuity and coldness, and acupuncturing Zusanli is helpful in strengtheningthe body resistance to eliminate pathogenic qi, and thus treating the disease.
(二)放血治癌原理
Ⅱ. Principle of bloodletting therapy
"针刺放血攻邪最捷"
There is such a saying: "Needling and bloodletting is the mostefficient way for expelling pathogenic qi."
刺血拔罐在中医传统理论中有祛邪解表,急救开窍,泄火解毒,祛瘀通络,调和气血和排脓消肿等功效。
In traditional Chinese medicine, blood-pricking and cupping hasthe effects of eliminating the pathogenic factor, relieving exterior syndrome,first aid, inducing resuscitation, discharging fire and removing toxin,eliminating blood stasis and dredging collaterals, regulating qi and blood,promoting pus discharge and detumescence.
《黄帝内经》如"刺络者,刺小络之血脉也";"菀陈则除之,出恶血也"。肿瘤多由于气滞血涩,使经络瘀滞而造成的。放血能直接排除局部瘀滞的气血与病邪,活血化淤促使经脉畅通无阻,从而达到化痰消肿的目的。又起清热解毒,调和气血、祛邪扶正,激发脏腑自我恢复功能的作用。
Yellow Emperor's Inner Canon said: "the doctor who needles the meridian shall needle thesmall meridian of blood vessel"; "Needling and bloodletting is suitablefor treating diseases caused by long-time qi and blood stasis and pathogenicqi." Tumor results, for the most of time, from collateral stasis caused by qistagnation and blood astringent.Bloodletting directly discharges partial stasisof qi and blood and pathogenic factor; it promotes blood circulation to removesblood stasis, making the meridians unblocked, so as to achieve the goal ofresolving phlegm and apocatastasis.Meanwhile, it clears away heat and toxins,regulates qi and blood, eliminates the pathogenic factor, strengthens bodyresistance and promotes self-recovery of internal organs.
(三)艾灸治癌原理
Ⅲ. Principle of moxibustion therapy
一阳复生癌自灭
Yang revitalization brings about self-destruction of cancer.
人活着就是靠阳气。所谓百病因寒生。治病救人,驱寒扶阳是第一要务。
Human lives on Yang qi. As a saying goes,hundreds of diseases comefrom coldness.Dispelling coldness and vitalizing Yang qi is the top priorityfor curing diseases and saving people.
窦材《扁鹊心书》云:"阳精若壮千年寿,阴气如强必毙伤。"又云:"阴气未消终是死,阳精若在必长生。"故为医者,要知保扶阳气为本。盖人有一息气在则不死,气者阳所生也,故阳气尽必死。人于无病时,常灸关元、气海、命关、中脘,保命延寿丹,虽未得长生,亦可保百余年寿矣。""医之治病用灸,如煮菜需薪,今人不能治大病,良由不知针艾故也。""鬼邪着人者,皆由阴盛阳虚,鬼能根据附阴气,故易而成病,若阳光盛者焉敢近之。治法大补元气加以育神,则鬼邪自然离体。""盖热病属阳,阳邪易散易治,不死。冷病属阴,阴邪易伏,故令人不觉,久则变为虚寒,侵蚀脏腑而死。"
Dou Cai said in Bian QueHeart Book: "A man with strong Yang qi is able to live a long life; aman with strong Yin qi will definitely suffer or die."He also said:"Dying is the final destiny if Yin qi is not eliminated; a long life isthe destiny if Yang qi persists."The doctor shall be clear that protectingand vitalizing Yang qi is the fundamental treatment.Therefore, he with a lastbreath will not die, since the breath is what keeps Yang; he who runs out ofYang qi will die definitely."If moxibustion is carried out to Guanyuan,Qihai, Mingguan and Zhongwan acupoints even if one does not fall ill, his lifewill be extended. Although his life may last not forever, but at least ahundred years.""Moxibustion is to treatment what firewood is tocooking; the reason why people today cannot cure major diseases is that theyignore the importance of moxibustion.""Those with rich Yin andinsufficient Yang will be easily attached by ghosts and thus fall ill; whileghosts dare not to come close to those with sufficient Yang.""Ifprimordial qi is invigorated and essence nourished, ghosts will leave the bodyautomatically.""Therefore, the hot disease is Yang disease, and, with the pathogenicfactor easy to expel and the disease easy to cure, no death from it happens.Thecold disease is Yin disease, which is easy to incubate pathogenic factors, sothe patient will feel cold and deficient and die from internal organ erosion.
简单说,人的身体健康跟阳气有很大的关系,阳气足,体质就强,就健康长寿。
To put it simply, human health is closely related with Yang qi;the body is strong when Yang qi is sufficient and the man tends to live long.
癌症没有我们想象的那么强大,癌症怕什么?它怕人体的阳气。
Cancer is not as strong as we think. What does it fear? It fears theYang qi in the body.
癌症就是阴邪在体内大量积聚的表现。因为正气虚损,血脉不能顺畅运行,才会形成癌症;如果正气充足,血脉顺畅,就一定不会产生癌症。
Cancer is the representation of accumulative yin qi and pathogenicfactors. If vital qi is damaged or insufficient, operation of blood andmeridian is not smooth, leading to cancer; Otherwise, if there is sufficientvital qi and smooth blood circulation, the man will surely not suffer fromcancer.
《扁鹊心书》云,保命之法"灼艾第一,丹药第二,附子第三。"
As it is said in Bian QueHeart Book: "There are three methods for saving life. The first one ismoxibustion, followed by special mercury preparations and monkshood."
《神农本草经》记载:艾草有温阳、暖宫、除湿、通筋活血的功效。艾灸具有温经散寒,扶正祛邪,疏通经络,调和营卫,激发机体功能的作用,受到历代医家的重视。
According toThe DivineFarmer's Herb-Root Classic, wormwood has the efficiencies of warming yang,warming uterus, damp-dispelling, dredging channels and promoting bloodcirculation. Moxibustion functions in warming meridians to dissipate coldness,strengthening the body resistance to eliminate pathogenic factors, dredgingmeridians, regulating nutrient qi and defensive qi and invigorating bodyfunctions, and thus is attached great importance by medical scholars of alldynasties.
"阴成形,阳化气"。癌症就是积聚的阴邪,阴邪就是积聚坏死的气血,由于艾灸产生的阳气,一方面可以温化阴邪,一方面鼓舞脏腑正气,激发脏腑功能,最终将肿瘤化掉。
Yin qi, when accumulated, turns into tumor, while Yang qidissolves Yin and the tumor.Cancer results from accumulative Yin pathogens,which is the accumulative necrotic qi and blood. The Yang qi generated bymoxibustion on the one hand warms yin pathogens, and on the other hand inspiresorgan functions and finally cures tumor.
(四)火针治癌原理
Ⅳ. Principle of fire needle therapy
以阳化阴、以火祛邪,火针治癌显奇效。
Fire needle has a miraculous effect on cancer since it dissolvesYin with Yang qi and eliminates the pathogenic factor with fire.
火针高温消灭癌细胞是当前各种形式肿瘤热疗的鼻祖,是祖国传统医学对人类健康的贡献!
Fire needle treatment with high temperature killing cancer cellsis the ancestor of various tumor heat treatments, as well as a contribution oftraditional medicine to human health!
火针疗法已有两千多年的历史,《灵枢·寿夭刚柔》云:"刺布衣者,以火焠之。"《灵枢·官针》云:"焠刺者,刺燔针则取痹也。"张仲景《伤寒论》中有"烧针令其汗","火逆下之,因烧针烦躁者","表里俱虚,阴阳气并竭,无阳则阴独,复加烧针……"等记载。《千金要方》正式定名为"火针"。《针灸大成》记述"频以麻油蘸其针,针上烧令通红,用方有功。若不红,不能去病,反损于人。"说明火针在明代已广泛应用于临床。
Fire needle therapy has a history of 2000 years.Fitness & Longevity of Miraculous Pivot of Yellow Emperor's Inner Canon said: "When fire needle is applied tothose with more tolerance, fire the needle." Needle Selection of MiraculousPivot of Yellow Emperor's Inner Canonsaid: "Fire puncture means to fire the needle and eliminate rheumatism." In theTreatise on Cold Damage of ZhangZhongjing, there are such records as: "fire the needle and make the patientsweat", "fire the needle to treat those agitated due to mistreatment by warmingtherapy" and "re-fire the needle to treat those with deficient Yin and Yang orthose without Yang." Thousand GoldenPrescriptions formally named this therapy as Fire Needle. According to Great Compendium of Acupuncture andMoxibustion, "Frequently dip the needle in sesame oil and fire it red hot,then it will be effective in treatment; otherwise, it will not eliminatedisease but do harm to patient." This indicated that fire needle had beenwidely applied clinically in Ming Dynasty.
《黄帝内经》中对火针疗法的名称、针具、治疗病症及禁忌症等有了明确记载,并据"针烧而刺之的特点,将火针列为"九针"之一。提出用"燔针取痹"以及治"病在筋"、"病在在骨"等痼疾,指出了"刺布衣者,以火粹之,刺大人者,以药熨之",因病因人辩证施治的思想,和"燔针劫刺,以知为数,以痛为输"的取穴方法。
Yellow Emperor's Inner Canon haskept a clear record of name, needling instrument, indications and contraindicationsof fire needle therapy and listed it among the Nine Needles based on itsfeature of "firing the needle and then pricking the affected part." Meanwhile,this classic proposed to treat rheumatism with red-hot needling and therapiesfor diseases in the muscle and bone, respectively; it proposed the idea ofdialectical treatment based on the different diseases and people: "when fireneedle is applied to those with more tolerance, fire the needle; when appliedto those with less tolerance, drug the needle. The methods may be different aslong as the heat comes into body and expels pathogenic factor." What's more, italso proposed an acupoint positioning method: "Fire the needle and prick intothe body without retaining it; prick the pain spot and withdraw the needle whenthe patient feels pain."
《外科正宗》陈实功提出了治疗瘰疬的方法,被后人百试百验。他说"火针之法独称雄,破核消痰立大功,灯草桐油相协力,当头一点破凡笼"。他将火针治疗的适应用症扩大到了治疗瘰疬、气瘿、痰核、肿块等疾病。《小品方》中记载,附骨疽"若失时不消成脓者,用火针膏散",胬肉攀睛,"取针烧令赤,烙著肤上,不过三烁缩也"。《外台秘要》中详细描述用火针"去除脑后结节",治疗体表肿瘤的方法。有关火针的记载在古医书中可谓举不胜举。
Therapiesof scrofula were proposed by Chen Shigong in Orthodox Manual of External Diseases and have been time-tested.Chen said: "Fire needle is a sole effective therapy, which eliminates the nodeand dissolves phlegm. Light up the room and a single prick will prove." Headapted fire needle treatment to more diseases such as scrofula, qi goiter,phlegm node and bossing. There are records in Excerpts of Prescriptions: "Fireneedle and plaster eliminate the suppurative osteomyelitis which lasts longwith purulency; fire the needle hot red and iron the skin, the pterygiumshrinks after being ironed for three times." Medical Secrets of an Official has described in detail how to treatbody surface tumor through "eliminating brain posterior tubercle" with fire needle.Records of fire needle in ancient medical books are too numerous to enumerate.
火针在近代医学上基本濒临失传,后在恩师贺普仁教授的大力倡导下使火针疗法得以延续,贺老不断改进针具针法,不断扩大临床适应范围,使这一疗效神奇针法独特的火针疗法更具奇特。
Fire needle was on the border of being lost in modern medicine.Fortunately, it succeeds to continue with the great advocacy of my respectedteacher He Puren. Mr. He constantly improves needling instrument andacupuncture therapy, and continuously expands its application scope, enablingthe magic needling therapy to be more miraculous.
各种肿瘤的发病病机在于正虚邪实,气滞血瘀,痰湿凝聚,毒热内结所致,火针疗法具有温肾壮阳、散寒除湿、消症散结祛瘀、生机敛疮排脓、泻火清热解毒之功效。
Pathologies of various tumors are weak vital qi and excessivepathogen, qi stagnation and blood stasis, phlegm damp and toxin accumulation inthe body.Fire needle therapy is effective in warming the kidney to invigorateYang, dispelling cold and removing dampness, eliminating disease and removingstasis, eliminating blood stasis, promoting tissue regeneration and healingwound, promoting pus discharge, purging the pathogenic fire and clearing awayheat and toxins.
癌细胞都有一个致命的弱点就是怕热。现代医学研究发现人的体温上升到41.5—42度,就能热死癌细胞。火针是以用火将烧得通红的针尖迅速刺入或病灶肿瘤位置或相对穴位,采用留针或不留针方式。烧得通红针尖的温度是600多度,针进入体内的温度是100多度,而癌细胞在40多度就会死亡。火针直达病灶、直接灭癌、效果明显。
A fatal weakness of cancer cell is that it fears heat.According tomodern medicine research, when body temperature rises to 41.5-42℃, cancer cellswill die from heat.Fire needle therapy means to pierce rapidly into tumor orrelative acupoint with red-hot needlepoint, with the needle being retained inthe body or not.The red-hot needlepoint is over 600℃ and is over 100℃ whenpierced into human body, while cancer cells will die even at a temperature ofover 40℃.Fire needle goes directly to nidus and kills cancer cells directly,which is obviously effective.
火针疗法的治病机理在于借"火"力而取效,具有火针和灸的双重作用,增加人体阳气激发经气,调节脏腑机能,使经络通气血行,临床常有事半功倍之效。
Therapeutic mechanism of the fire needle is that it borrows the powerof "fire" and combines fire needle with moxibustion, which increasesYang qi of human body, inspires channel qi, regulates organ functions anddredges channels. Half the work of fire needle brings about double results.
火针特别在乳腺癌、淋巴癌、腮腺癌、乳腺纤维瘤、乳腺结核、淋巴结核等浅表性肿瘤方面,治疗效果更明显。
Fire needle is especially effective in treating superficial tumorssuch as breast cancer, lymphatic cancer, parotid gland cancer, breast fibromaand tuberculosis of breast and scrofula.
古今医学界很多认为火针为温法,只限于寒证使用。实事上,火针对火热毒邪疗效也明显。如火针治疗乳痈、缠腰火丹、痄腮等火热毒邪所致之证效果颇佳,火针具有清热解毒的作用,"以热引热"、"火郁发之"的功效。局部气血壅滞、火郁而毒生,出现红肿热痛等多种病证,使用火针借助火力强开其门,使壅结的火毒直接外泄。同时火针温通经脉,助气血运行,气血行,则火毒随之消散。
Throughout the history of medicine, many people consider fireneedle as a warming method which is only useful for treating cold syndrome.Actually, it is also effective in treating fire, heat, toxin and pathogenicfactors in the body.For example, fire needle is able to treat diseases causedby above factors such as acute mastitis, herpes zoster and mumps, since itclears away heat and toxins, "drives heat with heat" and"induces the fire stagnancy out of body".At the body part where thereis qi and blood stasis, fire stagnancy or toxin, it may turn red and hot, swellor hurt. By virtue of fire needle, the fire toxin stasis will be dischargeddirectly.Meanwhile, fire needle warms and dredges channels and promotes qi andblood circulation, along with which the fire toxin will dissipate.
火针之所以能治疗肿瘤,也出属于以阳化阴之理,中医有温则通,温则散之说。
Fire needle treating tumor is in accordance with the principlethat Yang qi dissolves Yin; there is saying in traditional Chinese medicinethat warmness brings smoothness and elimination of pathogenic factors.
全球癌症大爆发,中国发病率第一。
Worldwide outburst of cancer; China ranking the first in morbidity
全国肿瘤登记中心发布,我国每年新发癌症病例约为312万例,平均每天确诊8550人,每分钟就有6人被诊断为癌症,平均10秒钟就有一人确诊,并开始年轻化。
According to the report issued by National Tumor RegistrationCenter, yearly new cancer case in China is about 3.12 million, with 8550 newcases per day and 6 per minute and 1 every 10 seconds. Meanwhile, cancer isbecoming increasingly common among the young.
恶性肿瘤严重威胁人类的生命与健康,全世界医疗工作者前赴后继投入在癌症治疗的研究与临床运用。在肿瘤治疗方面有多种方式,西医主要采用手术、化疗、放疗等方式,但事实证明效果不佳,并且副作用大。而采用中医中药的治疗与调理,但效果相对会慢些。
Malignant cancer is a severe threat to human life and health.Therefore, medical workers worldwide are devoting themselves into research andclinical application of cancer therapies.There are various ways for treatingtumor, and western medicine mainly adopts methods such as operation,chemotherapy and radiotherapy, which have been proved to be not effectiveenough with severe side effects.Whereas, treatment and regulating withtraditional Chinese medicine works relatively slow.
在本人多起肿瘤治疗上的经验发现,针灸抑制肿瘤的速度比中药快,火针配合针灸、艾灸、放血对中晚期癌症患者的抑制与治疗,或患者术后放疗化疗引起的无法进食、恶心、腹泻、呕吐、疼痛、白细胞下降、肿瘤扩散、腹水、积液、便秘、尿失禁、怕冷、昏迷等症状,治疗效果甚是明显!往往很多是当场针后就有明显疗效。
Based on case experience of oncotherapy, I have found thatacupuncture has a faster effect insuppressing tumor than traditional Chinesemedicine. With the complementary treatment of acupuncture, moxibustion andbloodletting, fire needle has obvious effect on suppressing and treating cancerof middle and late stages, as well as symptoms caused by radiotherapy and chemotherapy such asnon-food-intake, queasiness, diarrhea, vomit, pain, reducing of white blood cells, tumordiffusion, ascites, liquid loading, constipation, urinary incontinence,sensation of chill and coma!In many cases, the effect can be seen on spot afterthe fire needle treatment for the first time.
通过以上治癌的方法,具有简单、易操作、治疗成本低、操作得当无任何副作用(特别是没有化疗的副作用)、无痛苦、见效快(几次几天就见效、肿瘤明显变软、变小)等特点。
The above treatment for cancer is featured by simplicity, easyoperation, low cost, proper operation, no side effect (especially side effectsof chemotherapy),no pain and fast effect (with obvious effect after severaltimes or days of treatment and visible shrinking and softening of tumor).
以上方法值得我们深入交流、探讨,进一步完善中医外治法治疗肿瘤体系,减轻患者的痛苦与医疗成本,提高治癌的有效率与治愈率。
The methods above is worth further communication and discussion,which will contribute to the further improvements of external therapy of tumorin traditional Chinese medicine, relieve pain of patients, reduce medical carecost and increase effective rate and cure rate of tumor.
愿本文本人的治癌经验与方法能够为全球肿瘤医学界在癌症的治疗方面提供有效帮助,愿苍生无疾,愿天下无癌!
I hope that my experience and methods for treating tumor will behelpful to world tumor medicine in treating cancer. I hope that nobody suffersfrom disease and there is no cancer in the world!
作者单位:北京易草堂国际中医药研究院
Organization of the Author: Beijing Yicaotang InternationalTraditional Chinese Medicine Institute
厦门易草堂健康管理有限公司
Xiamen Yicaotang Health Management Co., Ltd.
交流方式(微信号):13959281681
Contact information (Wechat): 13959281681
附通过针灸,艾灸,火针治疗癌症的部分病案病例,提供交流分享!
Inthe following part, we'll share some cases of cancer treatment by acupuncture, moxibustion and fire needle for communicationand discussion!
病例一:
一82岁肠癌晚期老人,引起肠梗、腹胀如鼓、肝积水,肾积水、心积水、下半身浮肿、十几天不能进食、不能大小便,针灸艾灸几次就消肿、能进食、能床上坐起。
Case 1:
An 82-year-oldpatient suffered from advanced colorectal cancer, with symptoms such as ileus,drum-like abdominal distention, hydrohepatosis, hydronephrosis pericardialeffusion, lower body edema, difficulty in feeding for more than ten days anddefecation. However, several days of acupuncture and moxibustion brought aboutdetumescence, no difficulty in feeding and the ability of sitting up on thebed.
病例二:
一胃癌晚期患者,化疗6次后,全身体瘦如骨,脸色苍白,治前患侧癌部位剧痛,疼得哇哇叫,大汗淋漓。通过针灸与艾灸后十几分钟后立马缓解,第二天至后来的治疗当中,就一直没有疼痛了。原来一直怕冷的症状明显改变。
Case 2:
Apatient suffered from advanced gastric carcinoma. After six times ofchemotherapy, the patient had pale complexion and sharp pain in the affectedpart and sweat profusely. After more than ten minutes of acupuncture andmoxibustion, the pain was relieved immediately. The patient felt no pain at allfrom the second day of treatment on. The original sensation of chill wasimproved obviously.
病例三:
一食道癌晚期患者,化疗5次后,身体衰弱,疲乏,噁心呕吐,无法进食、一喝水就吐、通过四天针灸、放血、艾灸后开始能相对常人进食、饮水。
Case 3:
A patient suffered from advanced esophagus cancer. After 5times of chemotherapy, the body got weak and fatigue, with nausea and vomitingand feeding problem. After four days of acupuncture, bloodletting andmoxibustion, the patient could have water or meals normally.
病例四:减少癌痛
一肝癌患者,因急性发作,找我时时间已经来不及了,但通过针灸、艾灸,患者无痛(睡着)而走。得癌症的患者一般都是承受不了癌症的疼痛,让患者走时能够没有痛苦对患者本身,对患者家人从某种角度来说是种福。
Case4: Relieving pain
A patient suffered from liver cancer. Unfortunately, it wasan acute attack and it was too late when he came to me. However, with thetreatment of acupuncture and moxibustion, he was able to pass away with no pain(in sleep). Those suffering from cancer cannot stand the pain it brings, so itis a kind of fortune for families if the patient can leave without pain.
病例五:脑癌
【第一天治法如下】
针灸:针脚底的涌泉、截瘤针、血海、足三里、丰隆、三阴交、太溪、照海,手上的曲池、外关、合谷、劳宫。腹部的中脘、下脘、天枢(对)、气海、关元。在头部脑部做穴位推拿后,针太阳穴(对)印堂、率谷(对)、神庭、百会、四神聪。
Case5: Cerebral cancer
[Treatment for the first day]
Acupuncture: acupuncture was applied to the acupoints ofYongquan, Jieliuzhen, Xuehai, Zusanli, Fenglong, Sanyinjiao, Taixi and Zhaohaiin sole of feet, Quchi, Waiguan, Hegu and Laogong in the hands, Zhongwan,Xiawan, Tianshu (in pair), Qihai and Guanyuan in abdomen and temple (in pair),ophryon, Shuaigu (in pair), Shenting, Baihui and Sishencong after manipulationhad been applied to these head acupoints.
针后在足底的涌泉穴位、中脘、神阙、气海、关元,脑部的百会、第四脑室(脑肿瘤的位置)艾灸。
After acupuncture, moxibustion was applied to Yongquan,Zhongwan, Shenque, Qihai and Guanyuan in the sole of feet and Baihui in thehead as well as the fourth ventricle (where lies the tumor).
【效果反馈】
从下午差不多二点开始施治,到下午六点左右,整个施治过程约4个多小时左右。期间患者有两次头痛,第一次痛的前后时间约20多分钟,第二次痛的前后时间约10多分钟。
[Effectiveness]
The treatment began at about 2 p.m. and ended at 6 p.m.,lasting about 4 hours, during which period the patient felt pain twice, painfor the first time lasting about 20 minutes and the second more than 10minutes.
通过本次针灸艾灸的治疗与之前的治疗有以下的明显对比疼痛的时间明显缩短:从原一发作要痛1-2小时甚至2-3小时,缩短到20-30分钟左右。
After the treatment of acupuncture and moxibustion, painduration was obviously shortened, with the pain lasting for 1-2 hours or even2-3 hours before treatment and 20-30 minutes after.
疼痛的程度明显减轻:从原一发作就开始剧痛,到没那么疼痛的转变。
原来通过输液、打激素、注射甘露醇、吃止痛片来止痛到现在不靠任何药物而能止痛的改变。
After the treatment of acupuncture and moxibustion, theseverity of pain was reduced obviously: the patient felt severe painoriginally, but felt medium pain after treatment.
He had to rely on infusion, hormone and mannitol injectionand pain-killer to relieve pain before treatment, but he does not to rely onany drug after treatment.
【第二天治法如下】
[Treatment for the second day]
1. 针灸治法同上
1.Treatment of acupuncture kept the same.
2. 扎火针:在腹部的中脘、下脘、天枢(对)、气海、关元,手上的曲池、外关,两脚的足三里、丰隆,腰背部的肾俞、气海俞、痞根穴等穴位上扎火针。
2. Fire needle: fire needle was applied to Zhongwan,Xiawan, Tianshu (in pair), Qihai and Guanyuan in abdomen, Quchi, Waiguan in thehand, Zusanli, Fenglong in the foot and Shenshu, Qihaishu and Pigen in thewaist and back.
3. 在脑部的太阳穴(对)、率谷穴(对)、第四脑室(脑肿瘤的位置)、百会位置拔罐放血。
3. Cupping and bloodletting were applied to temple (inpair), Shuaigu (in pair) and baihui in the head and the fourth ventricle (wherelies the tumor).
4. 在腹部的中脘、下脘、气海、关元,足底的涌泉穴位;背部的肾俞、气海俞、痞根穴;脑部的太阳穴(对)、率谷穴(对)、第四脑室(脑肿瘤的位置)、百会等穴位上进行重灸。
4. A re-acupuncture was applied to Zhongwan, Xiawan, Qihaiand Guanyuan in the abdomen, Yongquan in the sole of feet, Shenshu, Qihaishuand Pigen in the back, temple (in pair), Shuaigu (in pair) and baihui in thehead and the fourth ventricle (where lies the tumor).
【效果反馈】
[Effectiveness]
1. 患者的神智明显清醒了很多,从原来跟家人讲话,文不对题,认错人,乱叫人,讲胡话,到能清楚认对人,讲话也清楚多了。
1. The patient had a more conscious mind. He was unable tospeak clearly or distinguish one from another before treatment; but was able tospeak clearly and recognize the identities of their families after treatment.
2. 从第一天不认识我,叫不出我,到能清楚认得出我的声音,并且能知道我是某某。
2. The patient was unable to recognize me the first day wemet, but now he can recognize my voice and my identity.
3. 食欲与精神状态明显好很多。
3. The patient has had a better appetite and mental state.
4. 一整天,基本没出现头痛的情况。
4. The patient does not feel pain in the head for a wholeday.
病例六:肺癌咳血
一肺癌患者,不停咳血,针灸针风池、大椎、风门、肺俞、右天井、手臂上的曲池、尺泽、孔最、列缺及天突穴,留针近1个小时,留针30分钟后咳血开始有所减缓。针后少商穴放血,放血后患者的咳有所缓解,后血止住了,也不咳了。
Case6: Lung cancer and hemoptysis
Apatient suffered from lung cancer and instant hemoptysis. The acupuncture was appliedto Fengchi, Dazhui, Fengmen, Feishu, Youtianjing, as well as Quchi, Chize,Kongzui, Lieque and Tiantu in the arm, and the needles were remained for aboutan hour. After 30 minutes of remaining needles, the hemoptysis was improved;after acupuncture, bloodletting was applied to Shaoshang Acupoint, then thecough was relieved and so is hemoptysis.
病例七:乳腺肿瘤
一乳腺肿瘤患者用火针针刺瘤体位置,针后浓水随针流入,肿瘤立马变小变软。火针具有消肿散结,清热解毒,活血祛淤,高温灭癌之功效。
Case7: Breast Tumor
A patient suffered from breast tumor and we applied fire needleto his tumor, then the pus flowed out and the tumor shrank and softened. Fireneedle has the efficacy of reducing swelling and resolving mass, clearing heatand removing toxicity, promoting blood circulation to remove blood stasis andkilling cancer with high temperature.
病例八:肺癌转淋巴癌
一肺癌转淋巴癌患者,未手术化疗,通过四个月的针灸、放血、火针、艾灸等外治法,现在症状正常。
Case8: Lung cancer turning into lymphoma
A patient suffered from lung cancer which turned intolymphoma later, and he did not receive operation or chemotherapy. After four monthsof treatment with external therapies such as acupuncture, bloodletting, fireneedle and moxibustion, everything turns normal.
病例九:结肠癌转肝癌
一结肠癌患者,转移肝,肺,化疗10多次,现症状为肝区,胃区疼痛,不能平躺睡,纳差,腹胀,无力。一诊通过针灸与艾灸后,患者反馈扎完针回家后,感觉人轻松不少,较有力气,腹部疼痛有缓解。二诊后原来的胃疼,肝区痛好多了,腹胀好了不少,味口也好了不少,原来只能半躺着睡(因肿瘤位置痛)现在可以平躺着睡。
Case9: Colon cancer turning into liver cancer
Apatient suffered from colon cancer, then it spreads to livers and lungs. Aftermore than ten times of chemotherapy, he felt pain in liver and stomach, and asa result cannot sleep flat-on, with poor appetite, abdominal distension andlack of strength. In the first treatment, we appliedacupuncture and moxibustionto him, and he felt more at ease with regain of strength and relief of pain inabdomen. After the second treatment, he felt less pain in stomach and liver,with less abdominal distension and better appetite. Originally, he had to lieon the side when sleeping due to pain in the affected area; however, he is ableto lie low now.
三诊后,原来的胃疼,肝区痛,现在己经基本不痛了,腹胀好了不少,味口也好了不少,人精神也好多了,可以平躺着睡。发现患者竞然能自行正常躺平(注,原来因肿瘤位置疼痛要靠家人帮助才能慢慢艰难的躺平)。因背部需要艾灸,患者竞然能趴着艾灸半个多小时,而且全过程身体沒有不舒适感,足以证明短短三次的针灸与艾灸突显神效,从癌扩散,癌肿大,癌痛,腹胀,不能平躺睡,到现在以上症状基本消失。
After the third treatment, the pain in stomach andliver almost disappeared, with less abdominal distension, better appetite andgreater mental status. What's more, the patient is now able to lie low byhimself (previously, he was able to manage to do this only with the assistanceof his families due to pain in the affected area). When he has to receivemoxibustionon the back, he can even lie on front for more than half an hour, with nodiscomfort during the whole process, which is enough to prove the miraculouseffect of the three times of acupuncture and moxibustion. It makes all thesymptoms such as spread of cancer, tumor swelling, cancer pain, abdominaldistension and inability for lying low disappear.
病例十:肠癌转肝癌
一肠癌转肝癌患者,女,34岁,7月份单位常规体检发现癌症,后做2个疗程共8次的化疗,身体虚弱,头发要快要掉光。
Case10: Intestinal cancer turning into liver cancer
A34-year-old female patient suffered from intestinal cancer which turned into liver cancer. She discovered thetumor in the conventional check-up of working unit in July. Then she received 8times of chemotherapy in two courses of treatment and became rather weak, andalmost had no hair.
第一天针后,她马上有舒服感。
Afteracupuncture for the first time, she felt comfortable immediately.
第二天针灸后,原来的下腹(肠癌位置)痛,变不痛了,原来的肝区痛好了些。并且精神状态好了不少,能自行到小区内散步,食欲也好多了。
Afteracupuncture for the second time, her pain in the hypogastrium (affected area)disappeared and pain in the liver was relieved. Meanwhile, she has bettermental status and better appetite and was able to take a walk in theneighborhood.
第三天针完后,反馈肝区位置痛也好多了,基本不痛了,精神不错,味口好极了。家人看到短短几次就有这样的效果,充满了快乐,充满了生的希望。
Afteracupuncture for the third time, there was almost no pain in the liver and thepatient had very good mental status and appetite. The fast effectiveness bringshappiness to this family and they felt the hope of life.
第五天通过背部俞穴放血后,患者反馈,昨天放血后,肝区位置己经不痛了,效果真的好好的。
Onthe fifth day of treatment, after bloodletting in the Shu Acupoint in the back,the patient felt no pain in the liver and gave a very positive response on thefavorable effect of our treatment.
(注:以上症状消失不代表癌症全部好掉)
(Note:disappearance of above symptoms does not mean recovery from cancer)
附:作者陈春永(武当玄真)简介
Appendix: Introduction of Zhen Chunyong(representative of Xuanzhen Sect of Wudang Taoist)
Ø 世界非物质文化遗产针灸项目国家传承人、针灸泰斗、国医大师贺普仁教授嫡传弟子
Direct discipleof Professor He Puren, national inheritor of acupuncture and moxibustionprogram of world intangible cultural heritage, a leading authority ofacupuncture and moxibustion and traditional Chinese medicine master
Ø 中国道教协会会长、武当山道教协会会长、李光富道长弟子
President ofChinese Taoist Association, president of Wudang Taoism Association, disciple ofTaoist priest Li Guangfu
Ø 北京易草堂国际中医药研究院院长
President of Beijing Yicaotang International Traditional ChineseMedicine Institute
Ø 中医药特色诊疗技术专家
Expert of TCMcharacteristic clinical diagnosis and treatment
Ø 北京中医中药传承学院客座教授
Visitingprofessor of Beijing Chinese Medicine Inheritance School
Ø 国家注册针灸科医师
Nationalregistered acupuncture physician
Ø 卫生部注册反射疗法师
Registeredreflex therapist by Ministry of Health of PRC
擅长颈肩腰腿痛、头晕头疼、瘫痪、失眠与精神忧郁、肠胃、肾虚、高血压、高血脂、痛风、糖尿病、妇科、癌症等症状的非药物调理!
Mr.Chen is skilled in the non-drug regulating of pain in neck, shoulder, low-backand leg, dizziness, headache, paralysis, insomnia, melancholic spirit, diseasesin intestine and stomach, deficiency of the kidney, hypertension,hyperlipidemia, gout, diabetes, gynecopathy, cancer and other diseases!
多项医学研究成果在国内、国际中医药权威会议演讲与获奖!
Mr.Chen has given speeches and been awarded for many medical research achievementsin domestic and international TCM prestigious conferences!
一、2012年5月18日在北京全国人大会议中心参加"第二届中医大师学术传承高层论坛",论文《艾灸疗法在传统医学与保健作用显著》论文获一等奖!并入选由国家中医药管理局原副局长房书亭主编《中国名医名科名院品牌博览》,现场绝活展示获一等奖,并获得"中医大师"的荣誉称号!
Ⅰ. OnMay 18, 2012, Mr. Chen attended "the 2nd Traditional Chinese Medicine AcademicInheritance Top Forum" held in National People's Congress Center in Beijing,and his paper "Remarkable Efficacy of Moxibustion in Traditional Medicine andHealthcare" was awarded the first prize and was elected into Overview ofChinese Prestigious physicians, Disciplines and Hospitals, edited by FangShuting, former deputy director of State Administration of Traditional ChineseMedicine and was awarded the first prize of exclusive technique spotdemonstration! Meanwhile, Mr. Chen was honored as "master of traditionalChinese medicine"!
二、2012年9月22日在北京钓鱼台国宾馆参加"世界中医学会联合会中医特色诊疗国际学术会议",论文《艾灸加食疗有效治愈糖尿病》获得二等奖,入选论文集。
Ⅱ. OnSeptember 22, 2012, Mr. Chen attended the "Characteristic TCM Diagnosis andTreatment International Academic Conference of World Federation of ChineseMedicine Societies" held at Diaoyutai State Guesthouse in Beijing. His paper"Moxibustion and Dietary Therapy Helps in the Treatment of Diabetes" wasawarded the second prize and elected into the conference proceedings.
三、2012年12月8日在北京国际会议中心参加世界针灸学会联合会"2012年世界中医针灸养生大会",论文《失眠与精神忧郁症的非药物疗法》获大会一等奖!
Ⅲ. OnDecember 8, 2012, Mr. Chen attended "2012 World TCM Acupuncture-MoxibustionHealth Preservation Conference of The World Federation ofAcupuncture-Moxibustion Societies" held in Beijing International ConventionCenter, and his paper "The Non-drug Therapies of Insomnia and Melancholia" wasawarded the first prize!
四、 2013年2月接受中央电视台央视网商经频道的采访!
Ⅳ. InFebruary, 2013, Mr. Chen was interviewed by Business & Economic Channel ofCNTV of CCTV!
五、2013年9月13日参加在泰国曼谷举办的第三届国际传统医学大会,获得由泰国素巴莫亲王、泰国副总理王创合上将、国际传统医学大会主席三人亲自颁发的"人类健康贡献奖"!
Ⅴ. OnSeptember 13, 2013, Mr. Chen attended the 3rd International Conference on TraditionalMedicine held in Bangkok, Thailand, and he was awarded "Contribution Award ofHuman Health" in person by the Prince of Thailand, Thai Deputy Prime Ministerand President of International Conference on Traditional Medicine!
六、2014年11月受菲律宾菲华各界商业联合会主席许先生邀请前往菲律宾作学术交流,并为当地的华人华侨调理身体!
Ⅵ. InNovember, 2014, on the invitation of Mr. Xu, president of The Philippine-ChinaAssociation of All Walks of Life, Mr. Chen headed for the Philippines foracademic exchange and he helped the overseas Chinese there in body regulating!
七、2015年9月20日,受邀参加在西安召开的第五届世界中医药专家同盟、国际中医药防治癌症联盟成立大会,并在会上作《火针治癌》的学术报告!
Ⅶ. OnSeptember 20, 2015, Mr. Chen was invited and attended the 5th Inaugural Meetingof World Traditional Chinese Medicine Expert Alliance and InternationalAlliance of TCM Prevention and Treatment of Cancer held in Xi'an, and he madean academic report on the topic of "Curing Cancer with Fire Needle"!
八、2016年9月24日,在受邀参加在中国中医科学院举办的"世界中医药联合会中医特色诊疗研究专业委员会第三届换届大会暨第九届中医特色诊疗学术年会",在台上作《一阳复生癌自灭火针治癌显奇效》治癌成果报告!论文入选《论文集》并获优秀论文奖!
Ⅷ. OnSeptember 24, 2016, Mr. Chen was invited and attended "the 3d ElectionConference of TCM Featured Diagnosis and Treatment Specialized Committee ofWorld Federation of Chinese Medicine Societies & the 9th TCM FeaturedDiagnosis and Treatment Academic Annual Conference" and he made a report oncancer treatment achievements, themed by "YangRevitalization Brings about Self-destruction of Cancer; Fire Needle TherapyShows Miraculous Efficacy", and this paper was elected into theconference proceedings and awarded "Prize for Excellent Paper"!
曾为多个国家多个地区,如日本,韩国、菲律宾、泰国、新加坡、澳洲、香港、台湾等国际友人调理身体及当私人健康顾问。
Mr.Chen carried out body conditioning for foreign friends from Japan, Korea, ThePhilippines, Thailand, Singapore and Australia, as well as those live in HongKong and Taiwan and ever served as private health adviser for them.
多次受到《厦门日报》、《健康报》、《新浪中医》、《凤凰中医》等新闻媒体采访报道!
Mr.Chen has been interviewed for many times by news media such as Xiamen Daily,Health News, TCM Section of Sina and TCM Section of IFENG!